Okay, so the other day I stopped by Kitchen with Kids and saw Elle Bee's post on dry erase boards.  She uses hers to motivate, inspire, and or just leave sweet messages to her family.  She inspired me to buy one for my house.  I bought a smaller one to hang on our fridge.  It wasn't up an hour before the kids got to it.
Tomorrow is their first day back to school.  Not only is it their first day back but it's the Twins very first day of high school and Babygirl's first day of middle school.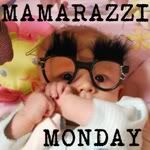 I'm submitting this post to Mamarazzi at Household 6 Diva.
Hope everyone has a marvelous Monday & a wonderful week!